I have to share absolutely amazing and very surreal news with you!
My painting "Nyx" has been selected for the show "Legends of the Moon" by Era Contemporary Gallery, which will be held in Philadelphia from December 3rd to Janurary 15th.
As the title already suggests, the exhibition's overall theme is the moon and how it has inspired other types of art such as literature, music, movies etc.
All of the selected paintings are part of the Lunar Codex which is going to go to the Moon. Yes, you haven't misread – "Nyx" will go to the moon with NASA!!!
Mission:
The U.S.'s National Aeronautics and Space Administration (NASA) wants to land humans back on the Moon in 2026.
In preparation, NASA will send scientific instruments to the Moon, over 2022 to 2025, via Commercial Lunar Payload Service (CLPS) partners, such as Astrobotic Technologies and Intuitive Machines. Their lunar landers will launch as payloads of commercial rocket platforms by the United Launch Alliance (ULA) or SpaceX.
Along with NASA instruments, these missions will carry commercial payloads, including the time capsules that make up The Lunar Codex. The images will be laser-etched on a nickel microfiche to be enclosed in a time capsule on a lunar lander, to be placed on the moon in perpetuity.
It will be the first significant placement of contemporary arts on the Moon in 50 years.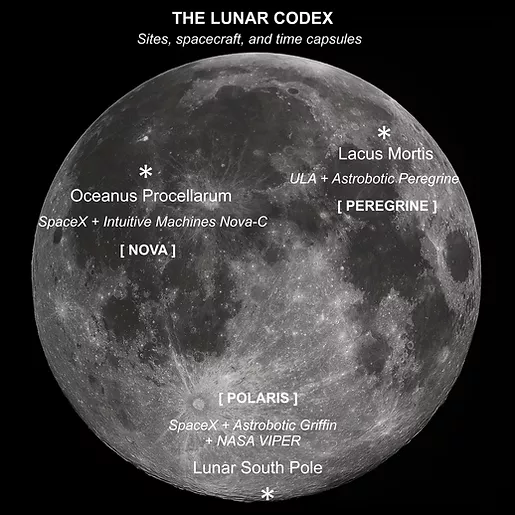 Legends of the Moon – Lunar Codex:
"Legends of the Moon" will part of the "Polaris Collection"  (Via SpaceX Falcon Heavy/Astrobotic Griffin/NASA VIPER ), landing on the Lunar South Pole in November 2024.
For more information about the Lunar Codex visit: Lunar Codex 
Legends of the Moon Exhibition:
Era Contemporary Gallery in Philadelphia/PA/USA
3rd of December 2022 until January 15th 2023
Register for Reception: Legends of the Moon: exhibition with the Lunar Codex Tickets, Sat, Dec 3, 2022 at 5:00 PM | Eventbrite
(Sources: Lunar Codex, Era Contemporary)